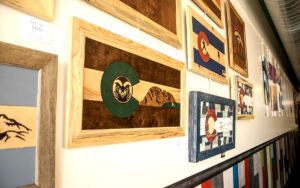 At Big Al's we love funky style, bright colors and supporting our Fort Collins community, that's why our walls are covered with local art!
If you're interested in hanging your art at Big Al's, please contact our Art Coordinator, Samantha at samantha@hotcornerconcepts.com
HOW IT WORKS
Apply by sending a PDF or online portfolio of your art to samantha@HotCornerConcepts.com
If your art is selected, we will contact you to schedule a date and time to hang your work
We rotate our art quarterly, you'll need to fill your space for a 3 month period and be available to remove your work with a few days notice.
We don't pay you to hang your work, nor do we charge a fee to hang your work.
We love to see what local artists are creating.