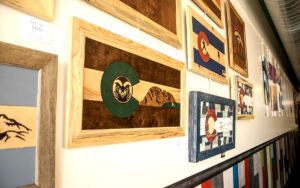 We love supporting local artists

At Big Al's we love funky style, bright colors and supporting our Fort Collins community, that's why our walls are covered with local art!
Are you a local artist looking for a space to showcase your work? Show us what you're creating and submit your art today!
Details about our rotating art gallery space

We have five spaces that are each roughly 6 feet high by 11 feet long and a custom in-house hanging system that utilizes long poles with adjustable hooks. Framed art that is wired on the back hangs most securly, but string on the back of matt board also works. Streched canvases usually hang well on the hooks without needing wire. All art must be hung using our system. If you're interested in sharing your local art creations, please stop by and seeit in action.
Learn about our process

If you're selected, a mutually agreed upon date to display your work will be determined. Your work will be up for around 3 months.
You will need to have enough art to fill an entire 6×11 space. Please have back up pieces ready to hang so our walls stay full and you get more sales.

Artwork cannot include nudity or profanity since a wide range of ages dine at Big Al's.
You must make changes to your display or remove work if you don't abide by the hanging guidelines.
Artwork must be labeled in two places:
◦ Tags on the wall next to each piece
◦ Matching tags on the back of each piece.
Each tag must at least include the following information:
◦ artist's name
◦ preferred contact info
◦ name of piece
◦ price "+Tax"
Please use non-permanent tape/adhesive so our walls aren't damaged.

Sales:
For simplicity, all sales will occur at our cash registers. We don't charge a gallery fee or take any commission! Big Al's will issue a check to you each month for any of your sales.
For additional exposure, we participate in the Downtown Fort Collins First Friday Art Walk.
Want to refresh your art display?
Please email samantha@hotcornerconcepts.com with at least a 24 hour notice if you plan to switch your art. Please avoid peak business hours which are 11:00pm-2:00pm and 4:30pm-7:30 pm.
HOW TO APPLY TO DISPLAY YOUR LOCAL ART

Interested in hanging your art at Big Al's? Apply by sending samples of your work or a link to an online portfolio to our Art Coordinator, samantha@hotcornerconcepts.com. We can't wait to see your talent!
You will be contacted to schedule a date and time to hang your work, if your art is selected.